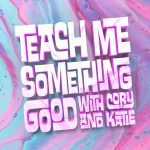 Cory and Katie regale spooky stores of exorcism, undiagnosed mental illness, rabies, and Milwaukee.
Get your I Heart Rabies shirt at Merch.TeachMe.Show.
Review our podcast! Head to RateThisPodcast.com/teachme and give us a review. Hit us up on Twitter @TeachMeShow or send us love letters via email: podcast@teachme.show TMSG is a proud member of the Apocalypse Podcast Network. Find your next favorite podcast today, before the apocalypse happens!