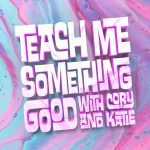 Cory, Katie and special guest Claire McNear talk about hometown claims to fame, genocide and vomit.
Claire McNear covers sports and culture for The Ringer. Her book, Answers In The Form Of Questions: A Definitive History and Insider's Guide to Jeopardy!, is out now at your local bookstore.
We're trying something new! In order to bring you more ~*~*content*~*~ we're going to focus on one topic per episode. This way, you can really focus in on the topics we're talking about.
Review our podcast! Head to RateThisPodcast.com/teachme and give us a review. Hit us up on Twitter @TeachMeShow or send us love letters via email: podcast@teachme.show TMSG is a proud member of the Apocalypse Podcast Network. Find your next favorite podcast today, before the apocalypse happens!